Kemer Antalya Göynük Beldibi Tours Activities Excursions Yacht Rental
Adventure Tours
Looking for an exciting way to experience the beauty of Antalya? Adventure-Tours has you covered! Our tours offer a range of thrilling activities, including rafting, canyoning, and hiking, all set against the backdrop of some of the most breathtaking landscapes in Turkey.
If you're looking for a real adrenaline rush, our rafting and canyoning tours are perfect for you. Navigate through the rapids of the Koprulu Canyon or rappel down the stunning waterfalls of the Lower Duden with our experienced guides, who will ensure your safety every step of the way.
If you prefer a more relaxed pace, our hiking tours take you through some of the most beautiful landscapes in Antalya, where you can discover hidden caves, ancient ruins, and enjoy breathtaking views. From the Taurus Mountains to the famous Lycian Way, we have a variety of trails to suit your interests and skill level.
No matter which adventure you choose, Adventure-Tours in Antalya promises to be an unforgettable experience for all. Book your tour today and get ready for an adventure of a lifetime!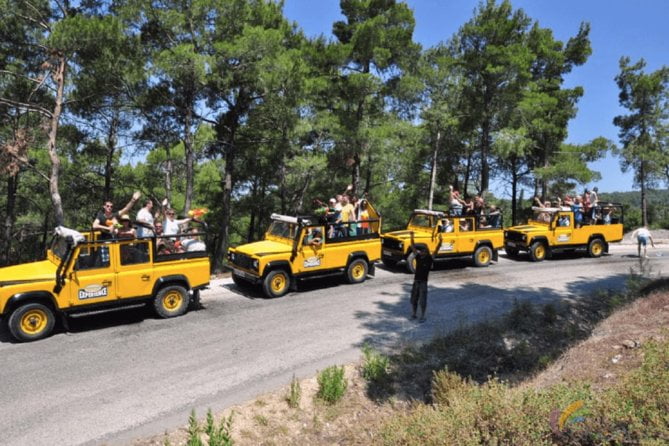 Antalya, Kemer, Koprulu Canyon, Manavgat
Location: Antalya - Koprulu Canyon National Park Guidance: Turkish, English, German, Russian Duration: 8 - 10 hours For whom: Children friendly and free for 0-6...
€30.00
€45.00
Next Departure
Oct 04
Oct 05
Oct 06
Available through out the year:
Jan
Feb
Mar
Apr
May
Jun
Jul
Aug
Sep
Oct
Nov
Dec
Antalya, Kemer
Diving in Kemer Scuba dive in the crystal clear waters of Turkey's Mediterranean at Antalya. See colorful fish and spectacular coral reef at dive sites...
€29.00
Next Departure
Oct 04
Oct 05
Oct 06
Available through out the year:
Jan
Feb
Mar
Apr
May
Jun
Jul
Aug
Sep
Oct
Nov
Dec
Boat Tours
Experience the beauty of Antalya's coastline with our boat tours, perfect for those seeking adventure and relaxation. Our tours offer activities such as swimming, snorkeling, and sightseeing, allowing you to discover hidden coves and pristine waters. With our knowledgeable guides and comfortable boats, you can sit back, relax and enjoy the Mediterranean sun. Book your boat tour in Antalya now and create memories that will last a lifetime!
Most Populars
Antalya, Kemer
2 Hours
Looking for a unique way to experience the beauty of Antalya? Consider a private yacht rental that takes you through the charming old town and...
€250.00
Next Departure
Oct 04
Oct 05
Oct 06
Available through out the year:
Jan
Feb
Mar
Apr
May
Jun
Jul
Aug
Sep
Oct
Nov
Dec
Private Tours
Experience the ultimate flexibility and personalized attention with our private tours in Antalya. Our expert guides will customize the tour to your interests, allowing you to explore the city at your own pace. Discover the hidden gems and off-the-beaten-path destinations that are not on the regular tourist circuit. Our private tours offer a variety of options, including cultural tours, adventure tours, and boat tours, to suit all kinds of interests. Book your private tour in Antalya now and enjoy a unique, tailored experience that's perfect for you!
Sightseeing Tours
Discover the stunning sights of Antalya with our sightseeing tours, perfect for those who want to explore the city's history, culture, and natural beauty. Our expert guides will take you on a journey through the most iconic landmarks, from the ancient ruins of Perge to the stunning coastal views. Learn about the region's rich history and traditions with visits to the Antalya Museum and the old town of Kaleici. Explore the traditional markets, taste the local cuisine, and immerse yourself in the vibrant culture of Antalya.
We offer a variety of tour options to suit your needs, from private tours customized to your interests, to group tours that provide a fun and informative way to explore the city with others. With our comfortable transportation, knowledgeable guides, and flexible schedules, you can enjoy a stress-free and enjoyable sightseeing experience.
Our sightseeing tours in Antalya are designed to provide a comprehensive and unforgettable experience, perfect for solo travelers, families, and groups of friends. Book your sightseeing tour in Antalya now and discover the magic of this beautiful city.
Antalya, Kemer, Olympos
5 Hours
Scaling the 12,500-foot-high (2,365-meter-high) peak of Tahtali Mountain—ancient Mount Olympus—the Olympos car (Olympos Teleferik) is that the hottest attraction in Beydaglari Coastal park. At the...
€55.00
Next Departure
Oct 04
Oct 05
Oct 06
Available through out the year:
Jan
Feb
Mar
Apr
May
Jun
Jul
Aug
Sep
Oct
Nov
Dec