Upper and Lower Duden Waterfalls
Düden Waterfalls are a gaggle of waterfalls within the province of Antalya, Turkey. Duden waterfalls, formed by the recycle station water, they are located 12.5 kilometers northeast of Antalya. They end where the waters of the Lower Düden Falls drop off a rocky cliff directly into the Akdeniz.
A group of Düden Waterfalls consists of 2 waterfalls, Lower Düden Waterfalls (Grand Waterfall) , and Upper Düden Waterfalls which is located in natural park.
Upper Duden Waterfall
Upper Duden Waterfall( Yukari Duden), which is found on the Duden River, 11 km north of the town center, is nearly a neighborhood of heaven.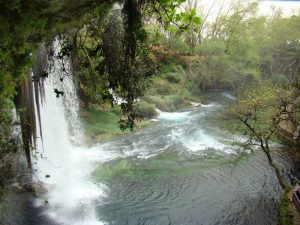 Upper Duden Waterfall is called Iskender Falls also and 11 km far away from the town center. The Source of the waterfall that falls from 20 m is at the Kirkgöz area 21 km ahead.
Duden waterfall is worth seeing through the caves beneath. there are also other water sources at the bottom where the Duden waterfall falls. The environs of the waterfall designed as a picnic area. You can check tour programs for visit this area.
Lower Duden Waterfall
Lower Duden Waterfall is 7 km far away from the town center on the brink of Karpuzkaldiran Beach on the thanks to Lara.
The panorama seems like a painting when looked through the Genclik Park right beside. If you've got an opportunity, we advise you to observe the falling waters from a ship out stumped.